AstroPay is a virtual prepaid card that can be used for online payments, including deposits and withdrawals to and from various online platforms. It is commonly used by individuals who do not have access to a credit or debit card, or who prefer not to use these payment methods for security or privacy reasons. AstroPay cards can be purchased online or through authorized resellers, and are available in various currencies. They are accepted by a growing number of merchants and online platforms, including gaming, sports betting, e-commerce, and other online services.
AstroPay is a popular online payment method that allows users to make secure and fast transactions without needing a credit card or bank account. It is widely used in Latin America, Turkey, and other regions where traditional payment methods may not be as accessible or widely accepted.
With AstroPay, users can purchase a virtual prepaid card that can be used for online purchases, including online gambling and betting sites. The virtual card can be funded with various payment methods, such as local bank transfers, e-wallets, and cash payments at participating retailers.
One of the benefits of AstroPay is that it offers a high level of security and privacy, as users do not need to provide their personal or financial information to merchants when making transactions. Additionally, the prepaid card system helps users stay within their budget and avoid overspending.
AstroPay has become increasingly popular in recent years due to its convenience, flexibility, and wide acceptance by online merchants.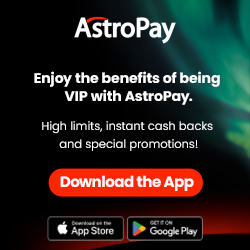 Virtual prepaid card
A virtual prepaid card is a payment card that exists in a digital format only and can be used for online transactions. It is a form of prepaid card that doesn't require a physical card to be issued. Instead, it is typically provided in the form of a unique 16-digit number that can be used to make purchases online. Virtual prepaid cards are often used as a more secure and convenient alternative to traditional credit or debit cards, as they do not require the user to provide their personal or financial information to the merchant. They can also be used for one-time purchases or for recurring payments, depending on the issuer's policies. Some common examples of virtual prepaid cards include Astropay, Visa Checkout, Masterpass, and American Express Checkout.

Why Virtual prepaid card?
Virtual prepaid cards offer several advantages over traditional physical cards:
Convenience: Virtual prepaid cards can be easily obtained and used online without the need to physically visit a bank or store to purchase or activate a card.
Security: Since virtual prepaid cards are not physically present, they are less likely to be lost, stolen, or compromised. Additionally, some virtual prepaid cards offer enhanced security features such as two-factor authentication.
Privacy: Virtual prepaid cards can be used without revealing personal information, making them a good option for online purchases where privacy is important.
Budgeting: Virtual prepaid cards can be loaded with a specific amount of funds, making them a good tool for budgeting and managing spending.
International use: Virtual prepaid cards can be used for online purchases from merchants located in different countries, without incurring currency conversion fees or other charges.